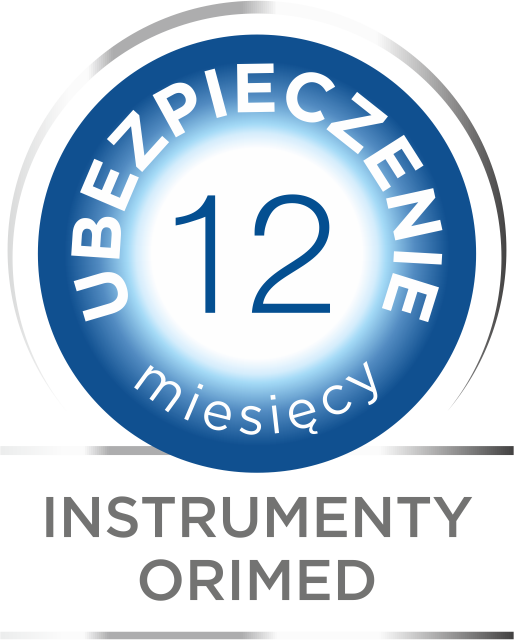 Insurance terms and conditions
Dear Sir/ Madam,

For the satisfaction of our customers, all steel tools of Orimed purchased in our shop are included in the insurance program. The insurance guarantees, within 12 months from the date of purchase, a free repair or replacement of a tool that was accidentally damaged, for example as a result of a fall.
In the case of an insurance situation in which the tool was accidentally damaged, please send a sterilized product to the address in the footing of the general insurance terms and conditions. Please attach a copy of the document confirming the purchase.
The insurance does not cover:
Improper use contrary to the intended purpose;
Mechanical damage due to excessive load;
Corrosive damage (e.g. pitting, discolouration of the surface) resulting from contact with aggressive chemical substances (e.g. salt solutions);
Improper handling in the cleaning and maintenance process when preparing them for reuse or storage by:

unsuitable disinfectants and cleaning agents,
improper use of disinfectants,
inappropriate methods of washing and cleaning,
lack of maintenance (lubrication) of fasteners or use of unsuitable maintenance agents;

Incorrect sterilization, e.g. due to inadequate quality of the sterilizing steam or incorrect parameters of the sterilization process, etc.;
Decolourisation of hard inserts;
Own repair attempts or repairs made by an unauthorized service.
Please note that it is up to the user to determine the suitability for use of the instrument for a given procedure. ORIMED is not liable for damages resulting from the use of tools in which damage has been found or which have been subjected to any modifications made by the user.
ORIMED
ul. Króla Zygmunta Augusta 9
08-445 Osieck
Phone +48 25 685 71 25
orimed@orimed.pl
www.orimed.pl